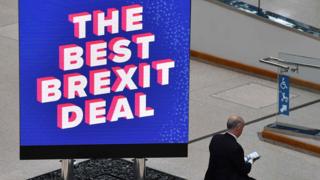 The UK could be left with "no choice" but a no-deal Brexit if the EU tries to "lock us in" to a customs union, according to Dominic Raab.
The Brexit secretary will tell his party's conference later that any attempt "via the back door" will be met with the UK walking away.
He will say the UK's willingness to compromise is "not without limits".
Chancellor Philip Hammond told the BBC the EU's views could not be "ignored" but some things were non-negotiable.
He told BBC Radio 4's Today there was a lot of uncertainty surrounding Brexit but the economy would get a boost when the two sides, as he expected, agreed a deal this autumn.
Mr Hammond, who will attempt to look beyond Brexit later by making a speech about plans to raise salaries, said unlike Labour his party understood there were "no short cuts" to supporting and growing the economy.
In his speech in Birmingham, Mr Raab – who has been a vocal supporter of Brexit – will say: "We are leaving the European Union in fact, not just in name.
"If an attempt is made to lock us in via the back door of the EEA [European Economic Area] and customs union… or if the only offer from the EU threatens the integrity of our union, then we will be left with no choice but to leave without a deal."
But he will also use his speech to repeat his backing for Theresa May's Brexit plan – known as Chequers – which has received criticism from both Remainers and Leavers.
"Our proposals would deliver a historic agreement that provides a roadmap out of the EU and a final deal that will be good for the whole country," Mr Raab will say.
What is wrong with Chequers?
Brexiteers feel it keeps the UK far too close to Brussels and doesn't fulfil the Leave campaign's promise during the 2016 referendum campaign to "take back control".
EU leaders have rejected the plan because they believe it would undermine the single market by allowing the UK to "cherry pick" from EU law.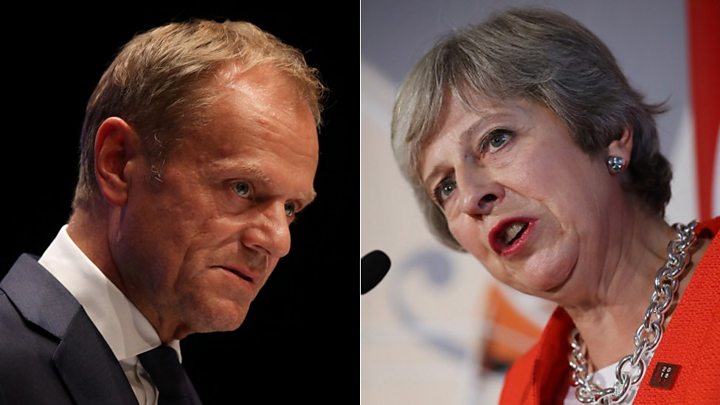 Theresa May says the ball is now in their court and she wants a more detailed response from them on their objections.
Labour leader Jeremy Corbyn said last week his party would back Mrs May in Parliament – if she agrees to their plan for a customs union with the EU and a Brexit deal that guarantees workers' rights and protects jobs.
But Mr Raab will warn there are limits to the UK's readiness to compromise and they will not accept a customs union.
Neither will the government agree to anything that divides Northern Ireland from the rest of the UK nor makes the country a member of the EEA like Norway.
What will the chancellor say on salaries?
The Remain-backing chancellor, Mr Hammond, will call on Conservatives to convince voters that their policies will "deliver a better tomorrow for them and their families" and warn that slow wage growth and job insecurity means too many people fear they are being left behind.
Mr Hammond will announce the government's intention to increase the number of people who can access science and technology courses and spend about £30m on encouraging big business to mentor small firms.
His plans also include a £125m package allowing large employers to transfer up to 25% of their apprenticeship levy funds to businesses in their supply chain from April next year.
The apprenticeship levy is a tax on large companies intended to pay for training at smaller companies, but uptake of the new policy has been slow.
Mr Hammond rejected suggestions that Brexit had caused an irreparable rift between his party and business.
"The Conservative Party has business at its core," he told Today. "We are the party of business and will always be the party of business…Business is aligned with our principles and values.
"We have to listen to business and I will show today that we have been listening to business with a series of announcements in responses to challenges we have received from business."
The Conservatives will also announce plans to stop restaurant chains taking tips left for staff by diners although Labour said it had simply followed their lead.
"This is now the fourth policy the Tories have copied from us at their conference," shadow business secretary Rebecca Long Bailey said: "It's beginning to feel like Groundhog Day."